Albumul "Joanne" al artistei Lady Gaga atinge un milion de albume vândute
Cel mai recent album semnat Lady Gaga, atins borna de 1 milion de albume vândute
Albumul "Joanne" al lui Lady Gaga a atins borna de 1 milion de albume vândute și primește certificarea de platină din partea  Recording Industry Association of America (RIAA). RIAA a relansat premiile Gold&Platinum în februarie 2016, luând în considerare, pe lângă citeriul albumelor vândute (cel puțin 10 melodii vândute dintr-un album), și alte criterii precum audio on-demand și/sau fluxurile video generate de un album.
Joanne este al cincilea album de studio al cântăreței americane Lady Gaga. A fost lansat la data de 21 octombrie 2016 de Streamline și Interscope Records. Lady Gaga a colaborat cu diverși producători precum Mark Ronson, Jeff Bhasker, BloodPop sau RedOne.
Din punct de vedere comercial, Joanne a devenit al patrulea album al lui Lady Gaga care a ajuns pe locul 1 în Statele Unite, și, de asemena, a dominat topurile din Argentina, Mexic, Brazilia și Taiwan, în Brazilia fiind certificat "platinum" la doar două luni de la lansare.  În scopul de a promova albumul, au fost lansate două single-uri: Perfect Illusion și Million Reasons.
Lady Gaga și-a numit albumul după sora tatălui ei, Joanne Germanotta. Ea a murit la data de 18 decembrie 1974, suferind de Lupus. Lady Gaga a observat că moartea mătușii ei a avut un efect puternic în familia ei. Cu toate că artista s-a născut după 12 ani de la moartea mătușii, Joanne a avut o influență puternică în familie și lucrările cântăreței. În albumul ei de debut, The Fame (2008), poezia "For A Moment" scrisă chiar de mătușa ei a fost inclusă în broșura albumului.
Lady Gaga îi mulțumeșe lui Joanne pentru că a ajutat-o să treacă peste problemele de dependență, dedicându-i turneul The Fame Ball Tour. Cântăreața are un tatuaj cu data în care mătușa ei a murit pe bicepsul stâng, printre rândurile unui vers dintr-o poezie al lui Rainer Maria Rilke. Părinții cântăreței au deschis un restaurant cu numele "Joanne's Trattoria" în New York în anul 2012. Lady Gaga a susținut că, deși nu a întâlnit-o niciodată pe mătușa ei, a fost "una dintre cele mai importante persoane din viața mea". Odată ce Lady Gaga a scris "Joanne" alături de Ronson, ei au decis ca numele albumui să fie la fel, făcându-l un omagiu pentru ea.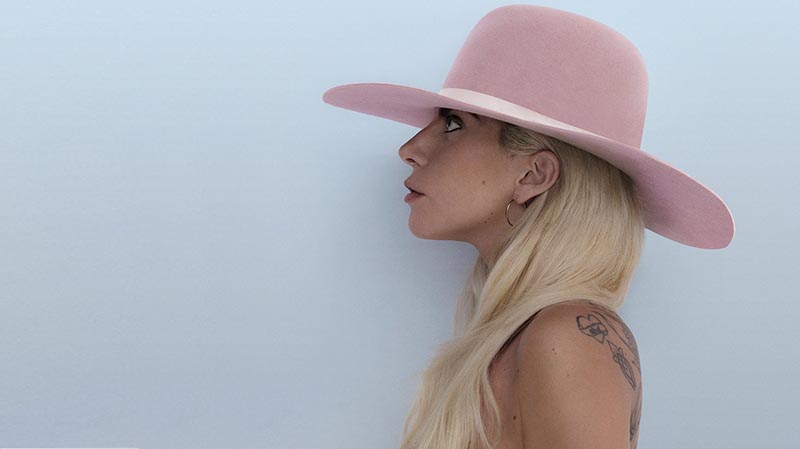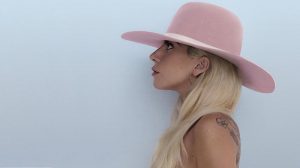 Odată cu titlul albumului, Lady Gaga a dezvăluit și coperta albumului. Este o fotografie din profil-stânga, pe un fundal albastru, cu cântăreața purtând o pălărie roz cu boruri largi. Pălăria a fost creată de Gladyz Tamez care a dezvăluit că a fost o altă sursă de inspirație în spatele lui Joanne. El a mai spus că pălăriile sunt inspirate de cântăreața Marianne Faithfull. A mai adăugat că "LadyGaga a fost prima care a cerut vreodată această pălărie în roz, deoarece este culoarea ei preferată". Tamez a numit-o "Lady Joanne" iar pentru preferințele cântăreței a trebuit să schimbe forma, culoarea și panglica de pe pălărie. În timpul proiectării cover-ului și a imaginii de ansamblu, Tamez și Lady Gaga au vorbit despre folosirea unor culori mai pastelate, inspirate de anii '70.
Dominique Redfearn de la Billboard a notat faptul că acest cover este mult mai simplu în comparație cu cele de la Born This Way sau Artpop. Andrew Unterberger de la aceeași publicație a descris cover-ul și design-ul ca fiind "compus cu grijă", adăugând că a fost un indicator al muzicii mult mai simple. Lista de cântece conține 11 melodii pe varianta standard și 14 melodii pe varianta deluxe. Broșura albumului conține obiecte personale ale familiei Germanotta cum ar fi imagini ale tatălui ei, permisul de conducere al lui Joanne precum și scrisul ei de mână. Lady Gaga a simțit că "ar fi frumos să includă amintiri de familie care poartă o semnificație și în ziua de azi…Și un Polarid cu mine și [Ronson] în studio așa cum ne-am construit familia noastră muzicală fără reguli pop cowboy dance soul funk rock."
Sursa: billboard.com/Wikipedia