S-a lansat soundtrack-ul oficial al filmului "Bohemian Rhapsody"
Pentru prima data in istorie, fanii trupei Queen vor putea asculta interpretarile live din cadrul show-ului incredibil pe care l-au oferit in iulie 1985, la Live Aid, cat si inregistrari rare din studio, pe care artistii le ofera in premiera publicului. Toate aceste momente muzicale de colectie vor fi incluse pe soundtrack-ul filmului "Bohemian Rhapsody".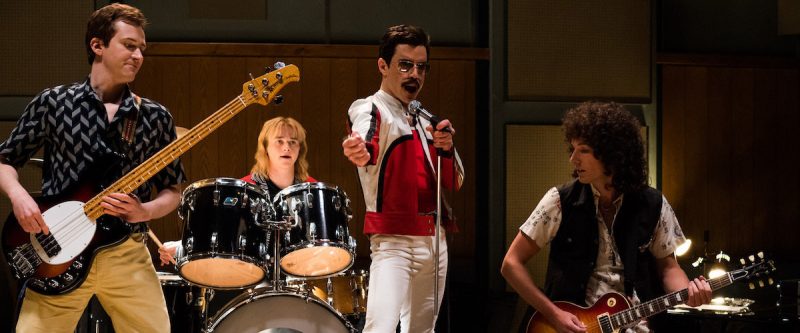 Din reteta exclusiva a soundtrack-ului nu puteau sa lipseasca piese care au scris istorie in cariera trupei, precum "Bohemian Rhapsody", "Radio Ga Ga", "Hammer To Fall" si "We Are The Champions", precum si o serie de inregistrari rare din studio.
Filmul "Bohemian Rhapsody" se va lansa in UK pe 23 octombrie, inainte de marea lansare mondiala, de la inceputul lunii noiembrie. Actorul principal si cel care interpreteaza rolul magistral al lui Freddie Mercury, Rami Malek, va reda povestea trupei Queen impreuna cu Gwilym Lee- Brian May, Ben Hardy- Roger Taylor, Jow Mazzello- John Deacon si Lucy Boynton- Mary Austin.
Cele 22 de piese incluse pe soundtrack-ul filmului au fost produse de Brian May si Roger Taylor, impreuna cu coproducatorii trupei Queen, Justin Shirley-Smith, Kris Fredriksson si Joshua J Macrae si masterizate de Adam Ayan si Bob Ludwig.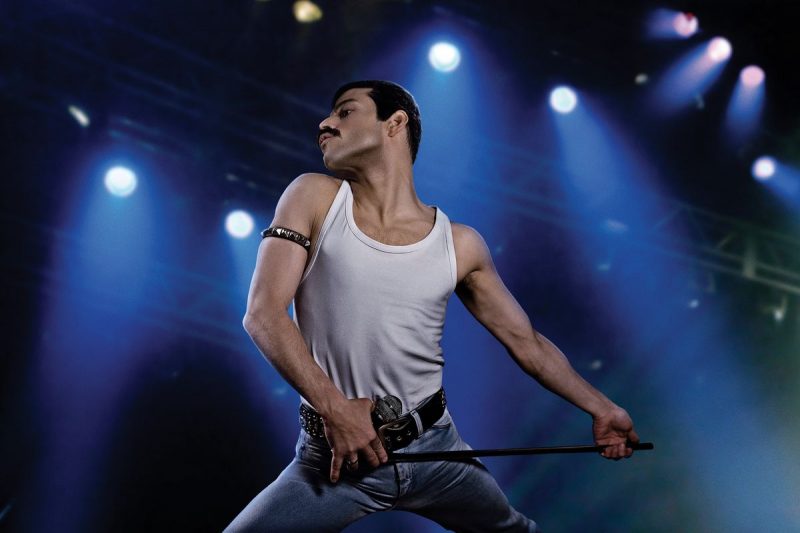 Misiunea principala a echipei din spatele soundtack-ului filmului "Bohemian Rhapsody" a fost sa gaseasca cea mai buna versiune posibila a fiecarei piese, mai ales pentru secventele ce contin interpretari live. Brief-ul pentru May, Taylor si coproducatorii sai a fost sa faca o selectie atenta a muzicii, care sa imbrace cat mai bine scenariul filmului.
Cele 5 piese interpretate de Queen in cadrul show-ului de pe 13 iulie 1985, de la Live Aid, sunt incluse pe soundtrack-ul filmului si sunt lansate pentru prima data in varianta audio. Pana acum, fanii Queen au putut asculta piesele numai in format video, incluse pe DVD-ul concertului "Queen Rock Montreal", show sustinut de legendara trupa in noiembrie 1981.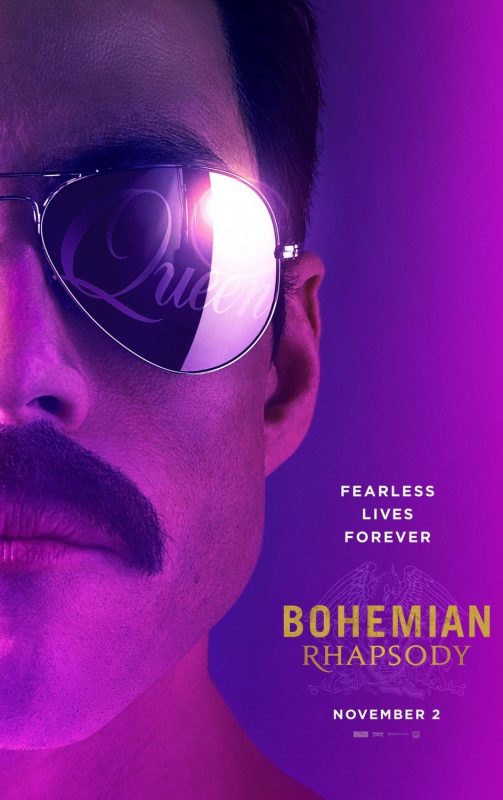 Celelalte piese de pe soundtrack-ul filmului au fost inregistrate in decade si pe continente diferite, unde trupa a sustinut concerte de-a lungul timpului. Piesa "Fat Bottomed Girls" este o inregistrare din cadrul concertului sustinut in Paris, in 1979. "Now I'm Here" este, de asemenea, prezenta pe soundtrack in varianta live, din concertul din 1975, show-ul din Ajunul Craciunului, din Londra, la Hammersmith Odeon. Desigur, nu putea sa lipseasca si duetul de exceptie dintre Freddie si Brian pe piesa "Love Of My Life", de la festivalul Rock in Rio, din ianuarie 1985, in care artistii sunt acompaniati de un public de peste 300.000 de brazilieni.
Alte doua piese incluse pe soundtrack, precum "We Will Rock You" si "Don't Stop Me Now", vin ca o surpriza pentru toti fanii Queen pentru ca sunt un blend exceptional intre momente istorice live ale trupei si inregistrari rare din studio.
Spre exemplu, piesa "Doing All Right" a fost initial inregistrata de trupa Smile (predecesorul trupei Queen), care era alcatuita din Brian si Roger, insa il avea la voce pe Tim Staffell. Dupa ce Tim a parasit trupa, Roger si Brian l-au cooptat pe tanarul Freddie Mercury si au format ceea ce avea sa fie trupa Queen. Ulterior, piesa "Doing All Right" a fost reinterpretata de Freddie pentru a putea fi inclusa pe primul album semnat Queen. Pentru filmul "Bohemian Rhapsody", insa, Brian si Roger au trebuit sa recreeze piesa "Doing All Right" in stilul Smile si astfel l-au cooptat pe Tim Staffell pentru a reinregistra piesa la studiourile din Abbey Road. Aceasta noua sesiune de inregistrari din Abbey Road Studios a avut loc la aproape 50 ani de la inregistrarea initiala cu Brian, Roger si Tim. Si totul a fost pus la cale special pentru soundtrack-ul filmului "Bohemian Rhapsody".
Cu vanzari record de peste 300 milioane unitati, Queen ramane cea mai ascultata si fresh trupa de muzica rock din lume, cu ascultatori de toate varstele. Desi trupa si fanii au suferit enorm dupa pierderea lui Freddie, din 1991, succesul Queen a continuat sa creasca odata cu trecerea anilor, sustinut de valul nou de fani care au descoperit muzica trupei prin intermediul talent show-urilor, serialelor si filmelor care au inclus muzica Queen in scenariile lor.
Mai mult ca sigur filmul "Bohemian Rhapsody" si soundtrack-ul sau de colectie vor reaminti fanilor motivele pentru care s-au indragostit de muzica Queen. Dupa aproape 50 de ani de la formarea trupei, Queen continua sa fie una dintre cele mai iubite trupe din istoria muzicii rock.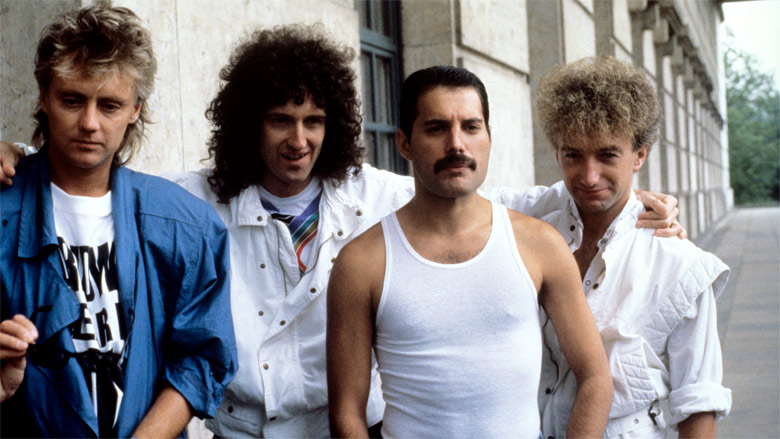 Poti asculta/ descarca soundtrack-ul "Bohemian Rhapsody" aici: 
https://umusic.lnk.to/BohemianRhapsodyPR
Track listing Soundtrack "Bohemian Rhapsody"
1. 20th Century Fox Fanfare 0:25
2. Somebody To Love 4:56
3. Doing All Right… revisited (Performed by Smile) 3:17
4. Keep Yourself Alive (Live At The Rainbow) 3:56
5. Killer Queen 2:59
6. Fat Bottomed Girls (Live In Paris) 4:38
7. Bohemian Rhapsody 5:55
8. Now I'm Here (Live At Hammersmith Odeon) 4:26
9. Crazy Little Thing Called Love 2:43
10. Love Of My Life (Rock In Rio) 4:29
11. We Will Rock You (Movie Mix) 2:09
12. Another One Bites The Dust 3:35
13. I Want To Break Free 3:43
14. Under Pressure (Performed by Queen & David Bowie) 4:04
15. Who Wants To Live Forever 5:15
16. Bohemian Rhapsody (Live Aid) 2:28
17. Radio Ga Ga (Live Aid) 4:06
18. Ay-Oh (Live Aid) 0:41
19. Hammer To Fall (Live Aid) 4:04
20. We Are The Champions (Live Aid) 3:57
21. Don't Stop Me Now… revisited 3:38
22. The Show Must Go On 4:32